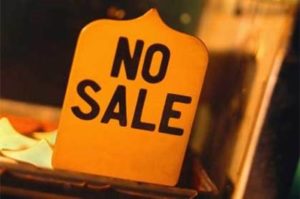 A notice to sell the former Atlantic Club Casino Hotel to a company based in Philadelphia has been canceled by the owner of the New Jersey property that has since 2004 stood empty.
According to the Press of Atlantic City…
Atlantic County real estate records indicate that the filing on February 19, 2019, voids a notice of settlement submitted last month between the individual listed as the buyer, Jeffrey Smolinsky of North American Acquisitions, and Florida-based development firm, TJM Properties.
No comment:
The news agency reports that neither agent responded to its request for comment, but that previously, spokesman for TJM, Matt Bradley, denied the sale to the daily newspaper in New Jersey.
In an email last month to the Press of Atlantic City, Bradley said, "We have only spoken to him a handful of times. It appeared he is the principal, and we have not heard from him in a few weeks now," as reported by the news agency.
Series of closures:
Largely as a result of increased competition from neighboring states and dwindling casino visitors, the property located at the southern end of Atlantic City's iconic boardwalk permanently closed on January 13, 2014.
Just four months later, the Atlantic Club was sold by Caesars Entertainment Corp. to TJM Properties for $13.5 million. The closure was followed the same year by Revel, Trump Plaza, and Showboat, which was operating at a profit when closed by Caesars.
This isn't the first time the owner has come close to selling the property.
Stockton debacle:
Stockton University had announced plans to purchase the property on Pacific Avenue in August 2018, a month before opening its new $176 million Atlantic City campus. Interested in creating academic and residential facilities, the University was to keep the parking garage but would demolish the hotel tower. However, in September, Stockton University announced that the proposed deal to purchase the property was no longer being pursued.
Water park miss:
Prior to the Stockton deal falling through, in 2016, plans for a $165 million investment were announced by Endeavor Property Group (Endeavor AC) in July 2015, as one of two new waterparks planned for the city. The deal had the backing of the Casino Reinvestment Development Authority (CRDA), but fell through in January 2016 when the Endeavor reportedly said it needed additional time in order to secure financing.

For the past few decades, the Showboat property in Atlantic City was working as a non-gaming hotel centre. Purchased by programmer, Bart Blatstein, in 2016, a deed restriction from 2014 maintained the property from offering casino gambling. The former [...]

With new ownership includes changes, and Ocean Resort Casino in Atlantic City is currently undergoing its share, such as what appears to be the impending unionization of its own hotel and restaurant workers. After Thursday's approval from [...]

American casino operator, Caesars Entertainment Corporation, has released its unaudited financial results for 2018 showing that it had experienced a 2.7% increase year-on-year in enterprise-wide net revenues to around $8.39 billion. Indiana [...]