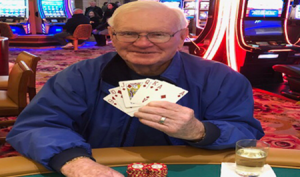 Over the weekend, Harold McDowell decided to visit the Borgata Hotel & Casino in Atlantic City to play a little poker. During his visit, the 85 year old was playing at the three-card poker tables and decided to place the 6 Card Bonus bet. This decision was a smart one as the poker player is now $1 million richer!
A Big Win:
On the hand with the side bet, McDowell was able to hit a royal straight flush of diamonds. Beating odds of 1 to 20 million, the poker player was able to turn $5 into a whopping $1 million prize! McDowell was dealt a 10, queen and Ace, all diamonds, while the dealer received a nine, jack and king of the same suit.
According to pix11.com…
McDowell was visiting the casino with his wife just one day after she was diagnosed as being free from cancer. Mrs. McDowell first battled colon cancer and then liver cancer. The lucky winner said that the better news is that his wife is healthy, because money is not the most important thing. After the win, McDowell said he was dumbfounded and sat there like an idiot.
According to the Borgata, the win was the first time the bet had been hit at the casino.
Other Big Wins:
The recent win is a big one for the casino, but not the only taking place at the Borgata this year. Back in September, a player was visiting the casino and decided to play the Wheel of Fortune Double Sapphire Gold Spin game. After wagering $10, the lucky female player who remains anonymous was able to win the jackpot, a prize worth just over $2.4 million!

For the past few decades, the Showboat property in Atlantic City was working as a non-gaming hotel centre. Purchased by programmer, Bart Blatstein, in 2016, a deed restriction from 2014 maintained the property from offering casino gambling. The former [...]

A notice to sell the former Atlantic Club Casino Hotel to a company based in Philadelphia has been canceled by the owner of the New Jersey property that has since 2004 stood empty. According to the Press of Atlantic City… Atlantic County real [...]

With new ownership includes changes, and Ocean Resort Casino in Atlantic City is currently undergoing its share, such as what appears to be the impending unionization of its own hotel and restaurant workers. After Thursday's approval from [...]