DraftKings is beefing up for its busiest time of the year as the new NFL season is just over two weeks away, CEO Jason Robins said in a recent interview for Yahoo Finance. The executive pointed out that as the new football season approaches, new user sign-ups and old user reactivations are spiking to create a "holiday season" for his company.
And while daily fantasy sports might currently be the company's main revenue source, it is gearing up for a time when the case will be a bit different and it will be deriving huge portions of its income from sports betting.
The US sports betting hype is growing by the day, following the mid-May annulment of a federal ban on wagering on professional and amateur sports leagues by the US Supreme Court. Sports betting was legal in Nevada and Delaware, to an extent, prior to the SCOTUS ruling. New Jersey followed by Mississippi were the first states to legalize the provision of that type of service on their territories after the ban was lifted. More states are expected to follow suit in the coming months.
The DraftKings CEO told Yahoo that there will probably come a time when his company will be more of a betting operator than a fantasy sports one. However, the executive pointed out that it all really depends on how fast "the states roll out". According to Mr. Robins, it will be after 10-12 states legalize sports betting when DraftKing's fantasy sports and betting lines cross. And it will probably take between two and three years for this to happen, he added.
An Industry-First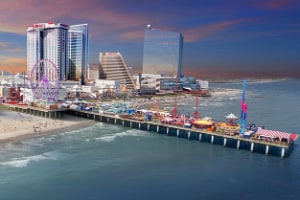 DraftKing was the first company to go live with a mobile betting app in New Jersey after the state legalized wagering on professional and amateur sports in mid-June. The DraftKings Sportsbook app was launched on August 6 with the company's Atlantic City partner – Resorts Atlantic City. It was just a few days ago when Las Vegas giant MGM Resorts International entered the New Jersey mobile betting market with a dedicated app to compete for a share in that potentially lucrative market.
DraftKings started working on its sports betting offering last year when SCOTUS initially announced that it would take up the sports betting case. The company's CEO told Yahoo that despite the rapidly enlarging hype, it is still all about fantasy sports as the betting market only serves a small portion of the US population.
Mr. Robins added that the latest sports betting developments have produced a "halo effect" for their fantasy product as the number of new fantasy sign-ups has increased significantly as people are responding to the general excitement. In addition, residents of states where wagering on sports is not legal yet are believed to be trying out DraftKings and fantasy sports, as a whole, as a consolation prize while awaiting the arrival of legal sports betting.
Related News