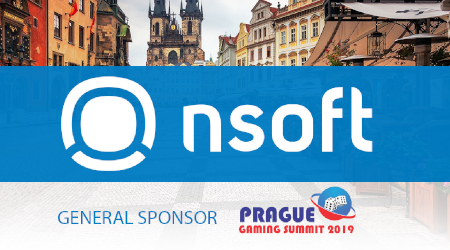 Prague Gaming Summit is the must attend conference of March and the organizing team is honored to announce the support of NSoft as General Sponsor during the 2019 edition.
The yearly summit offers the opportunity for both new companies and veterans, to learn about industry insights and compliance updates, while also take part in several industry related discussions with the leading groups that are at the forefront of the gambling industry in the Czech Republic, Slovakia, Poland, Austria, Switzerland, Germany, and Liechtenstein.
Panel discussion lead by the leading experts of the gambling industry, will approach all regulatory and compliance related aspects of the mentioned markets and will also highlight some trending topics such as the relationships between Regulators, Operators – Affiliates, MasterCard's new requirements for Online Merchants (CFD, FX, Gaming, Crypto), understanding millennials (with emphasis on eSports, Daily Fantasy Sports an Virtual Sports), outsourcing for gaming companies, IT security, AML, KYC, CSR.
The program will also include a very important IMGL MasterClass that will aim to share the latest insights by the International Masters of Gaming Law experts about advertisement banning.
Do not miss this exciting opportunity to meet the team at Prague Gaming Summit 3 and discuss collaboration possibilities! You can Register here or View the Agenda
READ THIS
Early Bird Rate and Nominations for the Baltic and Scandinavian Gaming Summit and Awards
The conference is held on a yearly basis and it is a "must-attend" gathering for all industry shareholders who are looking for top quality learning and networking having the online and land-based gambling industry in focus.
Full details about the event can be found on the official event website: www.praguegamingsummit.com
About NSoft
NSoft is an award – winning internationally recognized software solutions provider for the gaming and betting industry. Its product portfolio includes turnkey solution for managing betting business, retail and omni-channel solutions, Virtual sports betting, Sportsbook and Draw based games.
NSoft will be showcasing its comprehensive suite of products including a full Sportsbook platform, Virtual games and the latest innovations in AI offer at ICE London 2019.
Don't miss out on the chance to find out more about NSoft's products – meet them at Stand S1-260. Book a meeting with NSoft team or contact [email protected].
About the organizer, European Gaming Media and Events
European Gaming Media and Events is a leading media and boutique event organizer company in Europe and produces the prominent conferences in the region such as:
• CEEGC (Central and Eastern European Gaming Conference)
• CEEG Awards (Central and Eastern European Gaming Awards)
• Prague Gaming Summit
• Mare Balticum Gaming Summit
• Baltic and Scandinavia Gaming Awards
• EGC (European Gaming Congress)
• VIGE (Vienna International Gaming Expo)
READ THIS
European Gaming Media and Events celebrates 4th anniversary
The live events/conference division is in charge of organizing boutique style executive gaming events that focus on bringing inside information from the top gaming experts in the European Union and beyond.
In short, they cover most areas of Europe with international events that serve the local and global industry, optimize networking opportunities and bring the hottest topics into scope.
The event destinations in 2019 will include a further expansion for the company in their quest to enter the Western European region and bring their expertise to produce local gaming events.
For more details about the calendar, agendas and locations, visit the Live Events/Conferences section on europeangaming.eu
NSoft announced as General Sponsor at Prague Gaming Summit 3
was last modified:
January 21st, 2019
by

A "must attend" occasion, the 2019 edition of the Mare Balticum Gambling Summit is fast-approaching, also according to boutique gaming event organizer, European Gambling Media and Events, you will find a limited quantity of ticket plus [...]

Taivo Põrk (Ministry of Finance, Estonia) will once again be a speaker at MARE BALTICUM Gaming Summit. In 2018, the MARE BALTICUM Gaming Summit was launched and had the aim to become a platform for learning and networking within the gambling [...]

Ieva Andersone (Sorainen Latvia) will add her insights about the Latvian gambling industry at MARE BALTICUM Gaming Summit 2019. The online and land-based gambling industry is well connected in the Baltics and it has been just lately that region has been [...]