A massive campaign against gambling machines has started in the Eastern region of Kenya, with local security agencies trying to remove the terminals which have gained much popularity across the country.
A team led by Wycliffe Ogallo, the Eastern Regional Coordinator, confiscated a total of 192 Chinese gambling terminals worth KES13 million from the assembly plant situated in Embu town's Itabua area. The machines were destroyed, while the three people allegedly engaged in assembling them and distribution to other parts of the region were taken into custody.
As reported by KBC Channel, Mr. Ogallo explained that two of the people arrested are local residents, while the third one is a Chinese businessman. He further shared that Security Agencies' crackdown is to continue in order to purge the region from gambling operations which are currently illegal. The Regional Coordinator said that national government administration's officers and staff at all levels of local security committees would be mobilized to make sure the region is rid of illegal gambling operations.
Mr. Ogallo revealed that the competent authorities would be given time until the end of June to make sure that all gambling machines in the region are removed. He further shared that information about illegal gambling activities will be collected, with officers who encourage or help such businesses set to be fired and also face the law.
Gambling Crackdown Rolled Out Across the Country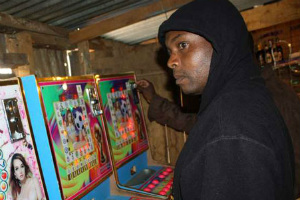 Gambling crackdown has been rolled out in other parts of the country, too. Yesterday, West Pokot County Security officers destroyed 21 gambling terminals which were confiscated last week, after the machines' owners did not show up to claim their ownership rights.
According to local media reports, owners of businesses in the region have been facing massive losses after the gambling machines which were confiscated at the time of the raid were burnt down in the center of Makutano town. Last week, national police officers carried out some sudden raids in a number of businesses, with unlicensed betting machines being found and confiscated during the raids.
Khaliff Abdulai, the Makutano town area Acting County Commissioner commented on the measures which have been taken as part of the gambling crackdown across Kenya. He explained that the raid was held in the towns of Makutano, Chepareria, and Ortum, where the authorities managed to find and impound the illegal gambling terminals. He further shared that no people were arrested at the time of the raid, as someone had provided the owners with confidential information and they managed to disappear before the police officers' arrival.
As explained by Mr. Abdulai, owners of the illegal gambling machines were given a grace period of one week to come and claim their ownership, but no one actually appeared. This is why the authorities took further measures and destroyed the machines, especially considering the fact that they want to fully eliminate illegal gambling in the country.
Related News

Greek gambling giant Intralot and local IT and telecom holding Intracom have denied reports about their potential merger, news outlet Kathimerini reported Friday In separate but practically identical statements published late last week, the two companies [...]

Caesars and Eldorado are reportedly exploring a merger that could create a $9 billion casino and hospitality powerhouse US gaming and hospitality operators Caesars Entertainment Corp. and Eldorado Resorts Inc. are holding early talks of a potential [...]

New York billionaire investor Carl Icahn keeps growing his Bet at Las Vegas Resort and casino giant Caesars Entertainment Corp., as he's pressing the company to merge with a rival operator or Market itself GuruFocus mentioned earlier this week that [...]