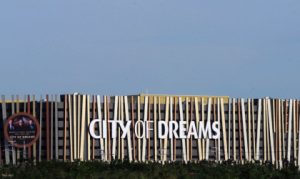 Asian gaming and entertainments giant Melco International Development Limited has released its interim financial results for the six months to the end of June showing an over 154% increase year-on-year in net profit to $140.12 million.
Resurgence down to 'better group-wide performance':
Hong Kong-listed Melco International Development Limited detailed its six-month results via an official Monday press release (pdf) and explained that the rise was principally due to 'better group-wide performance in all gaming segments and [the] recovery of previously provided doubtful debt'.
Melco International Development Limited is the majority owner of Macau casino operator Melco Resorts and Entertainment Limited and it explained that its most recent half-year net revenues had decreased by 1.6% year-on-year to stand at just over $2.52 billion although its adjusted earnings before interest, tax, depreciation and amortization rose by 16.7% to reach in excess of $700.64 million.
Bottom line hurt by higher commissions:
Melco Resorts and Entertainment Limited is responsible for the City of Dreams Manila, Altira Macau, Studio City Macau and City of Dreams Macau integrated casino resorts as well as the Mocha Clubs chain of electronic gaming machine parlors. Its parent put the recent decline in net revenues down to higher commissions although trade receivables, which are most often associated with the provision of credit to VIP gamblers, swelled by over 10% since the end of December to hit $221.66 million.
Operator extols Cyprus potential:
Looking forward, Melco International Development Limited pointed to June's opening of the $1.1 billion Morpheus luxury hotel attached to its City of Dreams Macau in advance of proclaiming that the same month additionally saw it officially break ground on its City of Dreams Mediterranean development in Cyprus. It stated that this latter property is set to open in 2021 near the city of Limassol as 'Europe's largest integrated destination resort' and allow it to showcase its 'renowned seamless array of gaming and non-gaming amenities'.
Lawrence Ho Yau Lung, Chairman and Chief Executive Officer for Melco International Development Limited, used an associated press release (pdf) to declare that his firm remains 'bullish on our exposure to an expanding network of global operations and business development opportunities beyond Macau.' He proclaimed that this stance will allow the operator to 'to further its goals to be a pioneer in premium travel, leisure and entertainment' while at the same time delivering 'world-class premium offerings that go beyond gaming to satisfy tomorrow's most sophisticated international travelers.'
Melco International Development Limited furthermore detailed that its coming Cypriot venue is moreover due to be joined by a trio of nearby satellite casinos for Larnaca, Paphos and Nicosia as well as a similarly-sized operation in the Turkish de facto state of Northern Cyprus.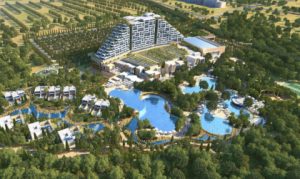 Japan remains 'pivotal focus':
Finally, Melco International Development Limited asserted that Japan 'remains a pivotal focus' for its 'long-term plan' and that it is optimistic about its prospects of securing one of the three integrated casino resort licenses that have been made possible by the recent passage of the Integrated Resorts Implementation Bill.
Ho's statement read…
"We view Japan as a market with the potential to rank among the largest global gaming destinations in Asia, second only to Macau. Our goal is to become a trusted partner in Japan's integrated casino resorts industry and we have been dedicating the necessary resources and investments for the development of this potential market. We are confident that these projects will further enhance our exposure in the global market."
Asian casino operator, Melco Resorts and Entertainment Limited, has announced the signing of a deal that will see it associate with a local sustainable energy generation firm so as to launch Macau's biggest solar energy array. Two properties to [...]

Asian gambling and entertainments giant, Melco International Development Limited, has reportedly declared the Philippine Stock Exchange has suspended the trading of stocks in its own Melco Resorts and Entertainment (Philippines) Corporation subordinate. [...]

Asian gaming and entertainments giant, Melco International Development Limited, has reportedly filed an official petition to have its own Melco Resorts and Entertainment (Philippines) Corporation weak de-listed in the Philippines Stock Exchange. Listing [...]