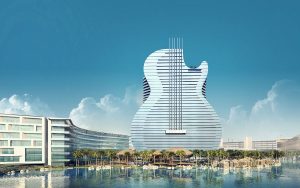 The Seminole Hard Rock Hotel & Casino Hollywood held on Monday a topping off ceremony for its guitar-shaped hotel that is slated to open doors in 2019. The construction of the hotel is part of a $1.5-billion expansion project that parent company Hard Rock International kicked off last year.
The ceremony was attended by hundreds of people, including members of surrounding communities and business leaders. The topping-off took place Monday morning in Hollywood, Florida. Traditionally, the ceremony involves placing the final beam at the highest construction point of a newly-built building.
Seminole Hard Rock Hollywood's beam featured US, Florida, and Seminole Tribe flags, signatures from members and leaders of the tribe that owns and operates the property, prominent politicians, and workers that participated in the construction of the avant-garde hotel. Local news outlets report that the beam also featured a small tree, which represented an old-time Scandinavian ritual for commemorating a newly completed building.
Commenting on the newly reached milestone, Seminole Gaming CEO and Hard Rock International Chairman Jim Allen told media that a vision has become a reality as they got to place the final beam to their iconic guitar-shaped hotel. The expansion project had been years in the making, but it was only last year that construction work kicked off.
Hard Rock has previously said that they would present to the world the first truly guitar-shaped building, as the shape would not be just an exterior facade and the curving of the building would be identical to a guitar.
Further Expansion at the Seminole Hard Rock Hollywood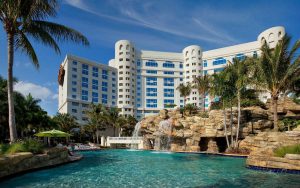 The new hotel tower at the Hollywood property will feature 806 rooms and suites. A seven-story tower located next to the guitar-shaped one will feature an additional 168 guest rooms and suites. The two new buildings will bring the total number of rooms and suites at the property to more than 1,250. Seminole Hard Rock Hollywood's original hotel was built back in 2004.
Aside from the accommodation facilities, the $1.5 billion expansion project includes renovation of the existing casino. Once complete, the gaming venue will feature 3,267 slot machines and 178 table games.
The guitar-shaped hotel tower will also have a 10-acre pool complex at its base. It will offer plunge pools, waterfalls, watersports, private cabanas, and multiple beach club food and beverage facilities.
The Seminole Hard Rock Hollywood property will also add more restaurants and nightclubs, a 41,000-square-foot spa, as well as meeting and retail space.
The renovated and expanded property is expected to be completed in mid-2019. Mr. Allen said yesterday that construction has created 2,000 new jobs so far and that multiple new full- and part-time jobs will be created once the expanded portions of the complex become operational.
Hard Rock International announced earlier this year plans to expand its Seminole Hard Rock Hotel & Casino Tampa property, as well. That project, too, is expected to be completed in mid-2019 and will see the addition of more gaming space, hundreds of new guest rooms, and new food and beverage and entertainment options. Hard Rock invested $700 million in that project as part of its plan to enhance the offering two of its flagship destinations in its domestic market.
Related News

Resorts World Las Vegas owner sells $1 billion bond to finance its construction; property on track for late 2020 opening Two subsidiaries of Malaysian casino and hospitality giant Genting Bhd priced on Tuesday $1 billion senior notes to fund the [...]

Top-level Wynn Resorts employees concealed key information about former boss Steve Wynn when the company was applying for a Boston casino license Wynn Resorts executives intentionally concealed sexual misconduct allegations against the company's [...]

A joint venture of Greek companies was awarded the construction contract for the City of Dreams Mediterranean casino resort Integrated Casino Resort Cyprus Ltd. (ICR Cyprus) awarded Tuesday the concession for the construction of what would be the Republic [...]