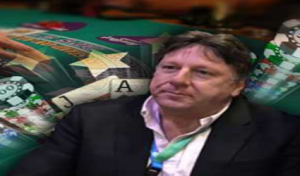 When it comes to casino games, there are traditional favorites like blackjack, that players like to play every time they visit a gambling venue. Over the years, individuals have tried to mix up game play and create new variations of traditional casino games to offer players something more. Geoff Hall is considered a top name when it comes to casino game inventions, particularly with the game of blackjack. Having started with Blackjack Switch, Geoff has created several casino games that are now found on the gaming floors of casinos in Las Vegas.
An Interview with BlackjackInfo.com:
Recently, Mike "Wizard of Odds" Shackleford, interviewed Geoff, to discuss his experience in creating unique blackjack games. Players will find that Geoff has created several popular titles found in Las Vegas, including Blackjack Switch, Free Bet Blackjack, Zombie Blackjack and Zappit.
During the interview, Mike asked Geoff about how he was a professional gambler before he got started inventing casino games. In his early years, he became fascinated by the game of blackjack after learning how to count at the game. He then learned new techniques such as Ace locating and shuffle tracking, then came back to counting alone to enjoy a higher win rate.
As a gambler, Geoff eventually was stopped from playing at casinos in the United Kingdom and would visit other casinos to play a game called Kalooki to be able to continue to play and win.
Casino Game Inventing:
Geoff would earn an honors degree in mathematics and then a post graduate certificate in education, ending up teaching youngsters match in the education field. He eventually left teaching to enter sales but then came back to teaching part time, using gambling to top up his salary. By 1999, he had decided to enter into the casino game inventing industry.
The first game that Geoff created was Blackjack Switch. When asked by Mike what inspired him to create the game, he answered by stating that he often played two hands at a local casino when at the blackjack table and he was continually being dealt stiff totals on each hand. This got him thinking.
What if he could play two hands and then choose which way their top cards would be dealt? This thinking pattern led to the creation of the Switch decision in the game. It would be a few more years before the Push 22 rule would come into play, to compensate for rules that didn't work as well at the casino.
The new game was then featured at a few tables inside the Casino Royale before it caught on. It was not until 2007-2008 that the game really took off. According to Geoff, it seemed that it was the financial crisis at that time that saw the game do well. Because players were hit financially, they were cutting back on the amount they were spending at the casinos. The venues needed to try something different, so they choose to install the Blackjack Switch game. The game would soon launch at The Wynn and then MGM, along with others.
New Games:
With the success of Blackjack Switch, it led to the ability for Geoff to create even more games. According to the inventor, his most successful game to date is Free Bet Blackjack. The game attracts players by providing the opportunity for free doubling and splitting. Additional popular titles of the inventor include Zombie Blackjack and Zappit.
The inventor is also still working on creating new games. In the interview, he tells Mike that players should be on the lookout for Lucky Cat Blackjack, a game that is going to have a trial run at The Golden Nugget by the end of November.

Tourism and casino operators in the mountainous Asian state of Nepal have expressed disappointment at an apparent government move to scrap proposed bespoke laws that would have mastered the licensing and running of local casinos. New regulations were due [...]