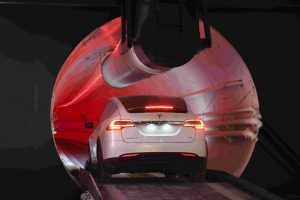 Las Vegas is betting big on an Elon Musk-backed means of transportation as the city is looking to advertise itself to a diverse public of potential visitors
News emerged Wednesday that the Las Vegas Convention and Visitors Authority has recommended that an Elon Musk-backed enterprise be awarded a contract to develop and operate an express tunnel transit system through which visitors at the city's Las Vegas Convention Center would be transported.
Musk founded his tunneling venture The Boring Company (pun intended) in late 2016. He indicated his plans to establish the tunnel construction company with a tweet (just as he often does), saying "Traffic is driving me nuts. Am going to build a tunnel boring machine and just start digging…" Indeed he started digging a tunnel under Hawthorne, California to test his underground transit system idea. He showed off the finished tunnel to journalists in December 2018, precisely two years after he first revealed his ambitions to end traffic jams for good.
While the eccentric businessman's plan was met with a significant amount of scepticism, just as many of his other ambitious projects, it seems that Las Vegas might be ready to embrace it.
What Does Musk's Las Vegas Plan Involve?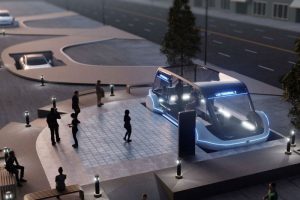 The Las Vegas Convention and Visitors Authority revealed yesterday that it has recommended a plan for the construction of a two-mile-long tunnel system underneath the Las Vegas Convention Center, which is currently undergoing expansion as Las Vegas is looking to bet bigger on convention tourism in the years to come. The city's Convention and Visitors Authority is tasked with operating the convention facility, which annually hosts well over one million people.
The tunnel system would be ready to debut by January 2021, right ahead of that year's edition of the Consumer Electronics Show. The curious means of transportation would cost between $35 million and $55 million, according to initial projections.
A fleet of autonomous electric vehicles would transport people around the Las Vegas Convention Center through the underground tunnel system, when and if it becomes operational. Future plans also involve the construction of tunnels that would transit people to the city's legendary casino strip. The fleet of vehicles could include Tesla's Model X and Model 3 as well as a vehicle that would easily seat 16 people. The undergoing transport services would be free for people attending conferences and exhibitions taking place at the Convention Center.
Approval Needed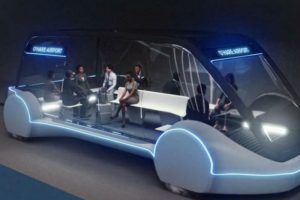 The Convention and Visitors Authority needs approval by its Board of Directors in order to be able to move on with its plan. It is expected to present to the board its recommendation to select The Boring Company as the developer of the tunnel system on Tuesday, March 12. Commenting on the newly emerged information, authority CEO Steve Hill told The Associated Press that the project is "really innovative" and that "it will be an attraction in and of itself, frankly."
Mr. Hill went on to explain that while details of the future tunnel system are yet to be finalized, it would probably feature three or four stations, each of them located at the entrances of the Convention Center's halls. People would be transported in electric vehicles through parallel tunnels. Each of the tunnels would be running in a single direction.
The authority's CEO acknowledged that the technology that would support the innovative means of transportation has not been put to commercial use yet, but he pointed out that The Boring Company has the talent to materialize the ambitious project.
The authority also has a plan for the expansion of the underground transport system with routes that would connect the Las Vegas Strip, downtown Vegas, and McCarran International Airport.
Follow us on Facebook and Twitter to stay up to date on the day's top casino news stories.
Related Articles
Live Dealer Casinos that Accept Skrill
PayPal Casinos for UK Players
Related News

Resorts World Las Vegas owner sells $1 billion bond to finance its construction; property on track for late 2020 opening Two subsidiaries of Malaysian casino and hospitality giant Genting Bhd priced on Tuesday $1 billion senior notes to fund the [...]

Top-level Wynn Resorts employees concealed key information about former boss Steve Wynn when the company was applying for a Boston casino license Wynn Resorts executives intentionally concealed sexual misconduct allegations against the company's [...]

A joint venture of Greek companies was awarded the construction contract for the City of Dreams Mediterranean casino resort Integrated Casino Resort Cyprus Ltd. (ICR Cyprus) awarded Tuesday the concession for the construction of what would be the Republic [...]