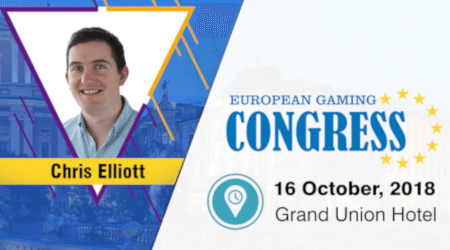 Chris Elliott (Wiggin) will speak about advertisement banning in the UK at EGC 2018 Ljubljana. There is one month until the inaugural European Gaming Congress opens its doors in Ljubljana and the organizers are honored to invite you to join them and the leading operators of the industry at this unique event.
The conference will take place at Grand Union Hotel Ljubljana on the 16th of October and is a must attend event for European operation who are active in regulated and non-regulated markets.
You can Register here or View the Agenda
European Gaming Congress is specially designed to bring together industry experts, regulators, operators and service providers in order to discuss burning issues some of the markets are facing when working with compliance updates and licensing. The event also offers networking sessions which will help attending delegates to meet and greet some of well known faces of the gambling industry in Europe. The agenda will give the opportunity for attending delegates to dive into regulatory updates from Italy, Malta, Slovenia, Austria, Germany, Spain, France, Greece and many more jurisdictions. We look forward to seeing you in Ljubljana with a full day of quality content and networking.
Given the location of the conference, the panel discussion includes regulatory updates from the Balkans region, with special emphasis on Serbia, Montenegro and Bosnia and Herzegovina.
READ THIS
Wilson, Baranca, Symons and Roumnakis to join CEEGC Budapest 2018
As announced earlier, European Gaming Congress will feature a special IMGL MasterClass™ which is titled "Advertising for gambling – a new minefield for operators".
The latest announced expert will join the above mentioned panel and will share the insights about the latest trends in the UK that shape the way operators are allowed to advertise their brands.
About Chris Elliot
Chris is a commercial and regulatory lawyer, concentrating on providing UK regulatory and compliance advice to various stakeholders in the online gambling and gaming industries. Chris acts for some of the industry's leading operators and suppliers, as well as smaller start-up companies, advising on the regulation and marketing of betting and gaming products. Chris also regularly advises businesses looking to expand into new markets, and has particular expertise in helping businesses understand the legal and regulatory implications associated with operating in regulated and unregulated markets.
Make sure you register your seat in time to benefit of the great lineup of speakers and meet Chris to hear about how you gambling operation can evolve with the new advertisement banning criteries.
Full details about the event can be found on the official website of the event: https://europeangamingcongress.com/
Register here!
About the organizer, European Gaming Media and Events (formerly EEGMedia/EEGEvents)
READ THIS
Jens Bader and Mario Ovcharov to join CEEGC 2018 as speakers
European Gaming Media and Events is a leading media and boutique event organizer company in Europe and produces the prominent conferences in the region such as:
• CEEGC (Central and Eastern European Gaming Conference)
• CEEG Awards (Central and Eastern European Gaming Awards)
• Prague Gaming Summit
• Mare Balticum Gaming Summit
• Baltic and Scandinavia Gaming Awards
• EGC (European Gaming Congress)
• VIGE (Vienna International Gaming Expo)
The live events/conference division is in charge of organizing boutique style executive gaming events that focus on bringing inside information from the top gaming experts in the European Union and beyond.
In short, they cover most areas of Europe with international events that serve the local and global industry, optimize networking opportunities and bring the hottest topics into scope.
The event destinations in 2019 will include a further expansion for the company in their quest to enter the Western European region and bring their expertise to produce local gaming events.
For more details about the calendar, agendas and locations, visit the Live Events/Conferences section on europeangaming.eu
Chris Elliott at EGC 2018 Ljubljana
was last modified:
September 17th, 2018
by

Boutique gambling event organizer, European Gaming Media and Events, has announced that its inaugural European Gaming Congress (EGC) at October will include a unique panel discussion from the International Masters of Gaming Law (IMGL) concerning the [...]