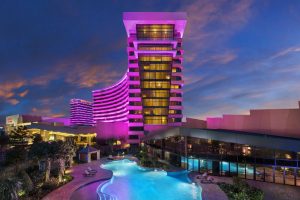 The Choctaw tribe plans to break ground on new expansion next spring
The Choctaw Nation of Oklahoma unveiled on Tuesday plans to expand its Choctaw Casino & Resort in Durant, Oklahoma. This will be the fourth expansion project to be carried out at the property since its original opening in 2006.
The tribe said in a press release from yesterday that this time expansion will involve the addition of more hotel rooms, the expansion of the resort's casino floor, as well as the addition of new amenities, including new pools, retail space, food and beverage options, a conference center, and various entertainment facilities, among other things.
The Choctaw Nation is planning to break ground on the brand new expansion project next spring. Construction work is expected to be complete over two years. According to estimates, the expansion will create 1,000 new jobs in Durant.
As mentioned earlier, Choctaw Casino first swung its doors open in 2006. Back then, the property featured a 100,000-square-foot casino. In 2010, the tribe added the 12-story Grand Tower. Guests have also been accommodated at the Choctaw Lodge and Choctaw Inn, which were both refurbished in 2012.
In 2015, the Choctaw Nation added another hotel tower, a spa, The District family entertainment center, and the Grand Theater.
"Starting Point for Many Wonderful Things"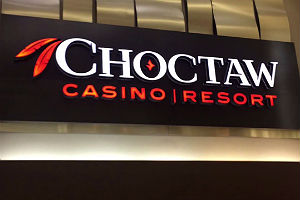 Commenting on the new expansion project, Choctaw Nation Chief Gary Batton said that the resort has been the "starting point for many wonderful things for the tribe" and that they are elated to "continue to grow with [their] community and improve the lives of [their] tribal and community members."
Mr. Batton went on to say that with the planned expansion they aim to boost the local economy and meet the demands of their growing clientèle not only from their domestic market but also from outside Oklahoma. He cited the results from a market study that indicated a strong demand for new entertainment options in Southern Oklahoma and North Texas and that was where the idea for the expansion came from.
The Choctaw Nation Chief also pointed out that the tribe had the vision to build Choctaw Casino & Resort more than three decades ago when it purchased the 50 acres of land the property currently occupies.
Construction giant Tutor Perini Building Corp will be leading the team that will design the new amenities at the resort. It will be working with JCJ Architecture and Friedmutter Group as design partners, it became known yesterday. Real estate developer TynanGroup LLC has been selected as the preferred developer for the expansion. According to the company's website, it has more than $4 billion worth of experience in delivering resort and casino projects.
Follow us on Facebook and Twitter to stay up to date on the day's top casino news stories.
Related News

Resorts World Las Vegas owner sells $1 billion bond to finance its construction; property on track for late 2020 opening Two subsidiaries of Malaysian casino and hospitality giant Genting Bhd priced on Tuesday $1 billion senior notes to fund the [...]

Top-level Wynn Resorts employees concealed key information about former boss Steve Wynn when the company was applying for a Boston casino license Wynn Resorts executives intentionally concealed sexual misconduct allegations against the company's [...]

A joint venture of Greek companies was awarded the construction contract for the City of Dreams Mediterranean casino resort Integrated Casino Resort Cyprus Ltd. (ICR Cyprus) awarded Tuesday the concession for the construction of what would be the Republic [...]